15 Gorgeous Mood Boards to Inspire Your Home Office
By: Haele Wolfe
Category: Blog

Why settle for cubicle culture when you can craft the perfect work space on your own turf? If you've been dreaming of making the jump from office life to working from home—or even better, have been given the go-ahead from your employer—but don't know where to start, a little mood boarding will get you in the right mindset.
Browse mood boards or make your own with platforms like Pinterest, Polyvore, Evernote, and The Mat Board. Evernote is primarily a note-saving and organization platform, but it has functions for mood boarding and is free. The Mat Board is more of a community for designers looking to share their work as mood boards, but it has a lot of great examples and search options for people who are just browsing. Sampleboard and MURAL are also great resources for professional mood board designing, but keep in mind both charge membership fees.
To get started, here are 15 dreamy mood boards that will get your decorating ideas flowing. Some feature actual desk setups and some are more traditional in that they simply capture a feeling. Either way, you can use them as you design your own ideal home office.
1. Sip Back and Relax


This utterly blissed-out mood board is quiet and serene, like a secret garden. Brew a pot of tea and find your focus among leafy paper patterns, succulent shapes, and just a hint of gold, while knocking out client after client like the oolong-fueled boss you know yourself to be.
2. Beachy Keen

There are some super-positive vibes coming off this board: A scripted, hand-drawn font plus sweet little photos of beach scenes evoke comfort, happiness, and a laid-back spirit. The motif will amp up your optimism and motivate you to start planning your next week of remote work from your favorite sandy shore.
3. Color Me Content


The mix of colors on this wall is like a creative battery pack. Curated by the Australian artist Helle Jorgensen, this collage and work space combines just the right number of natural textures with bright cups of tools and supplies. Take notes: Every desk should be at least a little fun—after all, it's where you spend many, many hours of your life.
4. Sweet and Clean


This cool-hued board is fresh (read: berries, berries, and more delicious berries), but speaks to a mellow, comfortable place where you call the shots. Simple tones, soft textures, and delicate scripts come together to inspire an earthy, practical space.
5. That Growing Feeling


If you want to grow your career, maybe it's time to take a literal approach. This vibrant board will give you a lift with juicy hues of green, soft beiges, and other natural colors that you just know are a sign of good things to come.
6. Open for Business



If a mom-and-pop atmosphere makes you the most comfortable, channel the retro, mix-and-match aesthetic in your office. Vintage signs, coffee-shop knickknacks, and secondhand furniture with lots of charm will give your space a nostalgia-tinged feel. We say: Shine on.
7. Wild Side



Who doesn't want to work from the wild, but with all the modern conveniences of home? Clean, modern furniture with pops of cool colors and lush plants make this board an attractive jumping-off point for your very own home office in the heart of the jungle.
8. Minimalist to the Max



I'm getting major boss vibes from this monochromatic board. For those who want a more literal interpretation of a work space, these sleek, welcoming spaces speak to professionalism and productivity. The rest of your house can hold everyone else's stuff—this office is just for you.
9. You Do You



On the other hand, a fun vibe might be just what you always wanted but could never quite accomplish within the confines of a more public work space. Let your quirky, creative side make the decisions as you take a style hint from this design-heavy but lighthearted collage. Reframe, refocus, and rework your perception of what you can accomplish from home.
10. Earthy and In Touch



This board keeps you rooted with solid materials—stone, wood, earth—while maintaining a sense of streamlined style. Use it to build a space that never feels cluttered, only organic. As a result, you will too.
11. The Tasteful Traveler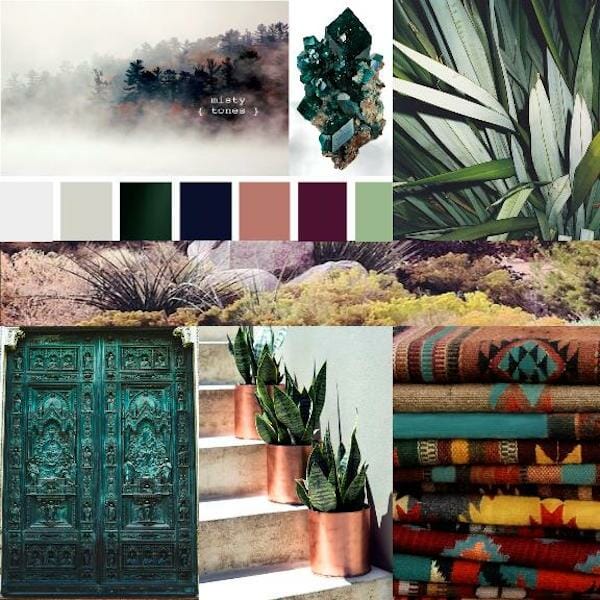 When the workday routine just won't do, take a little escape with a travel board. Build a vacation-inspired space and every new project will feel more like an adventure. These rich green textures, Southwestern prints, and magical accents will steer you toward freedom—right in your own home.
12. Get Out There



If you're among the many of us who long for the outdoors but need reliable Wi-Fi on demand, take a cue from this collection and embrace the great wide open. This board is all about creating space within your four walls with inspiration from feathery textures, misty lakes, and soaring forests.
13. Perfect Destination



Get a little playful and imaginative with this mood board: It has everything from a soft puppy to a rolling desert landscape to get you into the zone of personal work space guru. There's a strong fluffy thing happening here that's hard to pin down but looks awesomely comfortable for those days when you have to get down to business—but maybe in your pajamas or wrapped in a fuzzy throw. (#beingabossinmyblanket)
14. Reign On



There's a reason Queen Victoria loved purple. Bring out the royal you know yourself to be and start your own empire with sophisticated notes from this snazzy board.
15. Snug Success



If this board by isn't a mood booster, then I don't know what is. The light, verdant aesthetic captures the spirit of abundance and will help you build a cozy nook where your career can grow at its own pace. And hey, life is all about finding balance among the things you value—so shouldn't work be flexible enough to fit in with the rest of what you love?
There you have it: 15 beautiful mood boards to inspire your first (next?) home work space. Who knew how much you could glean from sand dunes and bananas? Now there really is nothing holding you back from starting your career at home. Especially with the help of our Ultimate Guide to Getting a Remote Job You Love.